New Server X100 Opening 10.July
Globalmuonline.com Season 15 Gaming project!
New server for medium-low experience style server fans will be opened at 10.July! Server experience for regular, master and majestic experience are x100! This is reset server and reset can be made in website from 400lvl.
Stats after reset burns, free points 500 after each reset! Reset costs 2kk zen * Reset!
There are reset limit with grand reset option! Each 30 resets you can make a grand reset to gain more stats and rewards! Maximum grand resets are 30!
Grand reset: From 30resets 400lvl and 100kk (millions) zen. The reward is for each GR are 3000 Stat points and 1500 Wcoins! Check HERE Reset and Grand Reset info
Opening Time:
[UTC +2, 18.00-Poland]
[UTC +8, 24.00-Philipines]
[UTC -3 13.00-Argentina]
Version: Season 15 Episode 1
Experience Regular/Master/Majestic: X100
Resets: 400 Level * 2kk zen, Stats burns, Max stats: 32000
Resets: From 400lvl *2kk zen, max resets 30
Grand resets: From 30 resets, reward 1500Credits and 5000 Ruud
Balanced PVP / PVM WITH All Classes!
Join the huge race, we are expecting at least 1000+ online in the first day!
Starter Gift, Pet Panda with Ring Panda for 3days !!! To get panda type in game: /startergift
Extra rewards: Share Our Post on FB Mu Online Groups to get 500 Wcoins rewards: Share This VIDEO
Updates 16.June
Updates have been added to servers, to play run launcher to get an automatic update or download manually HERE
Added Player Kill messages on Post
Fixed sale price divisor not working
Fixed Flames buff not applying within all sub-servers for Ice Valley Castle
Fixed Monster Soul Converter weekly purchases reset not working properly
Attack delays adjustments for selection of skills
Fixed Ghost Horse creation mix consumes an invalid number of ingredients
Fixed invalid elemental damage for selection of skills
Fixed party move can be abused to get into certain maps without the required level
Blocked ability of use the party move system to abuse Ice Valley Castle event
Added option to limit max punish damage, now is 100'000
Fixed monsters stay "alive" sometimes after killing them with AOE skills
Fixed use skill abuse between registered and not registered players for Ice Wind Castle event
Added Monster Soul Reset time config
Fixed Magic Stones mix issues
Blocked ability to enter to CC and CCS events with Dark and Ghost horses
Fixed Pet Trainer mixes issues
Fixed ability to abuse party move by outlaws
Fixed Cash Shop Item description
Updates 28.April

Changes and Updates, run launcher to get update or download HERE
Now ruud skills are visible after reset
Fixed Increase Attack Power of Lethal's Ring does not apply
Fixed Ghost Horse does not get exp while equipped together with Dark Horse
Fixed invalid Barrage Count for Death Scythe skill
Fixed invalid pentagram sockets when rewarded from Monster Soul System
Added new Event Ice Wind Valley (IWV)
Event is similar style to castle siege but is located on Devias 3 Castle! On Server1 Only!
Event start time 18.00 Registration starts 17.50 with command /regicewind
The guild must have at least 10 members to participate!
The event goal is for Guild Master Or Guild Assistants to sit on char one person to sit in Devias 3 on the Left side chair for 300 seconds! Maximum wait time is 120seconds!
Event duration is 30minutes! You can not warp to Devias 3 during event!
Event reward is 1000Wcoins to guild master! Rewards and event setting will be changed for the better game experience!
Updates 8.April
Added Conqueror wings description: Wings of Conqueror Premium and Wings of Conqueror Moss.
Lucky items, now show excellent options
Update client to with launcher to get the patch automatically or download manually HERE
Fixed possible attack delays while using a selection of skills
Fixed demolish skill values mismatch in the display for selected game-play areas
Fixed Spirit Stone chaos mix combination price
Fixed Earrings bonus options issue
Fixed not working fourth skill of increasing attack range
Fixed invalid attack behaviour of Triple Shot skill
Fixed inability to use Dark Horse and Ghost Horse together
Fixed attack range issue for selection of AOE skills
Fixed fast durability decrease issue for selection of items
Run launcher to get the patch automatically or download manually HERE
Updates on 2.March
New updates have been made, to play game run Launcher to get latest update, or download manualy HERE!
Fixed default configuration of DevilSquare monsters and levels, now Devil Square gives 2x exp
Fixed disconnect issue when attacking with some skills from long distance
Fixed misfunction of Talisman of Luck durability when used in Chaos Combination
Fixed selection of not working 4th wings options
Fixed animation issue for selection of skills while in offline levelling mode
Fixed inability to cancel selection of buffs
Fixed occassional HP issue in specified scenario of MU Helper use
Fixed mounts visual issues after using teleport or summon
Fixed inability to repair Wings of Power
Fixed delay issue for selection of skills
Fixed an issue where monsters did not take damage if attacker did not change its position from time to time
Fixed Spirit Stone Chaos Combination issues
Fixed Ghost Horse not working attack speed increase option
Fixed earrings mastery increase excellent/critical damage options functionality
Fixed not working CTRL+Z with selection of mount items
Fixed rush skill issue while ridding a mount pet
Fixed combo skill issue while ridding a mount pet
Fixed inability to heal Ghost Horse with Jewel of Bless
Fixed a 4th tere stun debuff issue
Fixed Elemental Rune is not stacking automatically while purchasing from store
Fixed selection of Rune Wizard skills animation/damage issue while in use in Offline Levelling plugin
Fixed combo damage does not cause damage in certain scenario
Fixed socket item upgrade may result in in producing socket item without single empty slot
Fixed not visible set options on selected ancient items
Globalmu Updates 29.January
Updates 29.January
To Play update your client from launcher!
Or download patch manually from download section
Fixed mu online ML exp issues
Fixed Korean translations of chaos machine item enchant combination
Fixed Devil Square monsters spawn, Devil Square and BC exp is no 2x
Fixed Chaos Castle event monsters settings
Ruud Shop configuration
Fixed Ghost Horse Attack Speed option issues
Fixed Nix monster disappear issue
Fixed Silver Heart set options functionality issue
Fixed Harsh Strike mastery mu online skill issues
Moving to Loren deep now required 800LVL
Updated Cash Shop, returned pets and buffs for GoblinPoints
Fixed missing ancient option display on Summoner and GL sets
Updates at 8.january
This Global Mu Online update was mostly small fixes and some important security fixes! Next update: Items for GP will be back, Jewel of kondar on ancient items and more, stay tuned! To play run launcher to get the latest update or download manually HERE
Updated Earring Attribute
Updates Chaos Castle and Devil Square monster settings
3rd tree damage increase skills for Slayer
Fixed Dark Horse healing issues
Added support of Two-Weapon Bonus for Slayer
Fixed selection of visual issues
Fixed Event Entry Level
Fixed Element Conversion Mix
Fixed Horn of Uniria Mix
Fixed Ghost Horse visual issues
Fixed Ghost Horse Reflect issue
Fixed missing Archangel items upgrade of Slayer
Updates on PVP
Server X9999 Opening at 13.December
Welcome to Globalmuonline.com Season 15 Gaming project!
New server for max style server fans will be opened at 13.December! Even if your not fan of X99999 style server, you should join to explore new Season 15 Features! Easy level up, easy item grinding, non-stop PVP! (NO PVP server will be opened as well) Compleating events will give you Wcoins!
Opening Time:
[UTC +2, 18.00-Poland]
[UTC +8, 24.00-Philipines]
[UTC -3 13.00-Argentina]
Version: Season 15
Experience Regular/Master/Majestic: X99999
Resets: 400 Level * 1kk zen, Stats stay, PPL: 10, Max stats: 32000
Resets: Reward 15Wcoins
Grand resets: From 100 resets, reward 1500Wcoins

Balanced PVP / PVM WITH All Class
Join the huge race, we are expecting at least 1000+ online in the first hour!
Check available ingame commands!
Kundun spawn at Devias 2
Shops all items are excellent
Starter Gift, Small wings Pet Panda, Ring Panda, 500kk zen
Seaon 15 Update is Done
Global Mu Online Season 15 update has been made! To play download new client!
The server was updated to newest season 15 part 1-3. The new update includes new things from S14 Episode 2 as well as season 15.
4th class skill tree was reseted, you need to set back your points! You can rebuild or reset skill tree with Scrolls from Potion Girl NPC!
Chaos machine new Equipment Reinforcement (item upgrade from +10 till +15)
Compleated season 14 things: New Map (Abyss Atlans)
New Map Monsters and Elite Monsters!
2nd level Earrings support, mixes, options
Summoner Updates:
Berserker Buff, Darkness Buff, Death Scythe Skill, and a remake of old skills Explosion, Requiem, Pollution! Changes in 3rd and 4th Skill Tree
New Items (Books)
Guardian System - new mixes, new pet Ghost Horse!
New Items 4th and 5th (Soul, Blue Eye) and new weapons for Rune Wizard!
New from Season 15!
New Class: Slayer, Royal Slayer, Master Slayer, Slaughterer! Slayer is a new female class character and is attack power is build only by Strenght. Character is very similar to Dark Knight class, as she can use some of the same items, weapons, wings and even skills.
Slayer can wear:: Flat Short Sword, Dacia Short Sword, Cookery Short Sword, and can wear some of the DK items like Wings of Dragon, Wings of Chaos and skill, Rageful Blow, Detection Bead
Slayer skills: Rageful Blow, Twisting Slash, Rush, Pierce Attack, Detection, Sword Inertia, Bat Flock! Skills!
There is changes from S14 to season 15, do not expect everything to be exactly the same before! But if you find any bugs please report to email or FB page!
Season 15 Updates
Season 15 Updates in progress, downtime 1-3 Hours!
All accounts. characters, items will be moved to Season 15!
Check or FB page for progress!
New client will be added, and will be required to play!
Black friday sale!
Black Friday sale is ON! Now from 29.November till -1. December you get 20% more credits than before!
Ticket support and Season 15 news
Hello Globalmuonline Players!
As you know, the ticket support system has been added on the website.
Login to your account - Click "Use Service" from the support module in the services section - fill and complete the form and then click submit.
Please ensure you identify whether it is a Web Issue, Game Issues, Account Issues, or Character Issues.
We will be forwarding all players to use the ticket support for any type of GlobalMuOnline S14 game support.
If you do not get a reply from your ticket, please wait for one as one of the support ticket moderator and an Admin will be sending you a reply within 24 hours from the time you submit your ticket.
Season 15part3 info! The server will be upgraded to Season 15 at the mid of the December! New Class Slayer, Royal Slayer, Master Slayer, Slaughterer! Slayer is a new female class character and is attack power is build only by Strenght. Character is similar to mu online Dark Knight, as she can use twisting slash, rageful blow and Dragon Wings/Chaos wings same as BK!
All accounts, characters, items, will be saved after update to Season 15!
Enjoy and Good luck.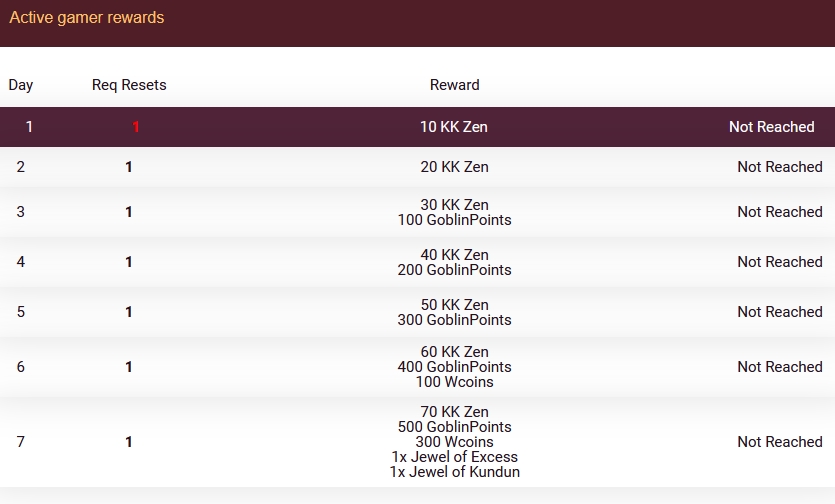 Active Global Mu online Gamer rewards
Added a new reward system for active players!
Now if you play the game each day, make at least one reset that day, you can claim daily rewards!
Go to Account Panel press Options and Active Gamer rewards!
Rules: You must login every day and make at least one reset! if you don't, activity count resets and you need to start again from day 1! You can claim a reward for 2 characters per account.
Reward list:
Day1 10 KK Zen
Day2 20 KK Zen
Day3 30 KK Zen 100 GoblinPoints
Day4 40 KK Zen 200 GoblinPoints
Day5 50 KK Zen 300 GoblinPoints
Day6 60 KK Zen 400 GoblinPoints 100 Wcoins
Day7 70 KK Zen 500 GoblinPoints 300 Wcoins 1x Jewel of Excess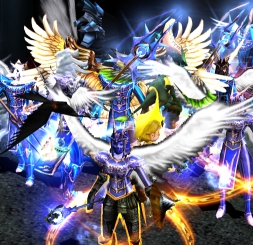 Updates 17.September
The fixed mu online issue where it was unable to equip selected Muuns.
Fixed inability to use kalima map with character over level 400.
Fixed mastery sealed mixes do not come with luck option.
Fixed Duel Master Fire Slash Enhanced (4th) does not deal with any damage in PvP.
Fixed Magic Slash Enhanced (4th) does not deal with any damage in PvP and PvM.
Fixed inability to use Jewel of harmony while it is stacked.
Fixed Dark Horse level up the issue.
Fixed Elfs Triple Shot damage range issue.
Added ability to display exc options in-game for Lucky items, update client to see effect.
Added Ring of Block, Ring of Ultimatium, Necklace of Agony, FO to Xshop.
Added spots in Kubera Mine, updated drop rate, spots are visible when after pressing TAB in-game.
The updated ancient drop rate on Land Of Trials for Castle Siege owners.
Changed Valey of Loren move level, now only 800+ levels can go there.
Some changes on global mu online PVP & PvP, decreased high damage skills for PVP.
More PVP updates coming soon!
Run Launcher to get the latest patch!
Added new rankings, Siege Guildlist and Duel arena!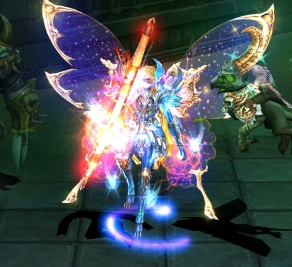 Reset system for globalmuonline!
When reaching 400lvl on your character can do Character reset in website, it will reset your level and your stats.
After that you will be lvl1 again and your stats will be 50 on each stats (strength, energy, agility, vitality and command for DL)
Each reset will cost 1milion zen and will give you 500 free points!
By doing resets custom settings are in play:
50 resets: 1000 Credits
100 resets: 1000 Credits
200 resets: 1000 Credits
300 resets and more 1000 credits
And so on, there is no reset limit. Maximum zen to pay for reset on global mu online is 300mil, that means if your 300 or 700 reset, on both you will need to pay 300kk zen!
Reset are dynamic, after 100resets you will have 80% exp, 200+ will give 60% Exp, 300+ will give 50% exp from official 500 Experience!